Home

Designs

Glossary

Tips

Free
Designs

Humour

Links

Tarot &amp
Altar

Awards &amp
WebRings

About Us

Contact
Us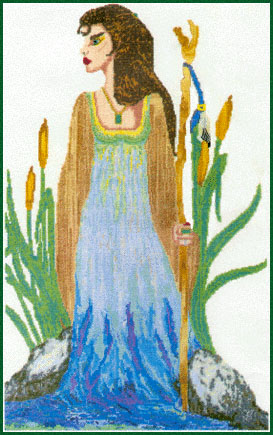 Nimue, The Lady of the Lake
$14.00 U.S.
Level: Advanced
Size: 210 x 350 stitches (approx. 9.5" x 16")
Fabric: 22 count white Hardanger
Comments: Variegated threads are used throughout this design, in Nimue's sleeves and parts of her dress, the lake, her staff and tops of the bulrushes. The effects of the variegated threads are not shown in the pattern illustration. DMC gold craft thread is used for her necklace and emerald ring.
Nimue, The Lady of the Lake copyright © 2002 by Cauldron Crafts and Jenna LeFevre. All rights reserved.